The blog will be putting light on the must-have spring shoes this year. The virus condition is making it tough to roam outside but, I know you can steal few hours to make it outside. The blog will be highlighting the trends of boots, flats and also some heels to enrich the styles of spring shoe trends.
Stradivarius Chunky Boots
The boots are awesome two wear coming with the two-tone. One is light beige and another one is khaki shade. These chunky wellie boots are one of the unique trends in spring. The boots are a kind of replica of black chunky boots that are worn n the winters. These colours of spring are also reflecting the feel of spring. These shoes are a great addition to your wardrobe. You can wear these shoes in spring showers too.
Flat ankle boot with double laces
The lace-up flat boots is also another big trend in the springs. Especially the lighter shades are treated to eyes and comfortable to wear too. Those shoes are good with light coloured summer outfits. The shoes are a good fit with the other summer dresses.
Asos pistacchio Espadrilles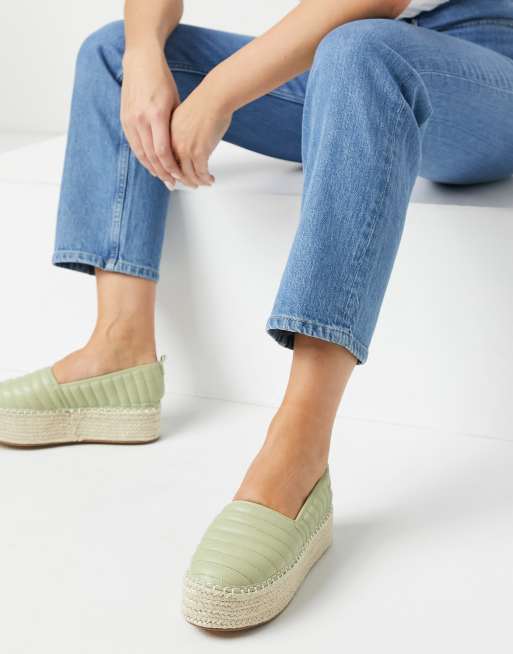 As the climate is going to warmer, the espadrilles are again hitting the market. This pair from ASOS will be perfect for spring. The lovely pistachio shades are stylish and very comfortable to wear. These espadrilles will add colours to your outfits and brighten up the styles as well. Jeans are a perfect fit for these shoes. These shoes are good for slightly warmer days. As the toes are closed, you may get a sweat on hot days.
Boohoo White Plaited sandals
The flats come in two colours white and black. These flats are perfect flats to slip on and great for spring days. The flats will be a good fit with light jacket jeans and a top. These flats are flexible with any match of dresses in summer. There are many different colours are available in the market but black and white colours are appropriate for your outfits. You may look out for different colours other than black when the summer intensity progresses. These flats are a must, anybody wants them to add some colours to the wardrobe.
Boohoo Teddy Borg Sandals
These teddy bear material borg sandals need to have a teddy bear materials are owning the planet. These light wear sandals are a big trend for spring especially. The light beige shade and the chunky buckles detailing on the straps are making it different. It will be a great fit to style with jeans and trendy too. You will feel a soft touch on the harsh days.
Public Desire Black Velcro Sandals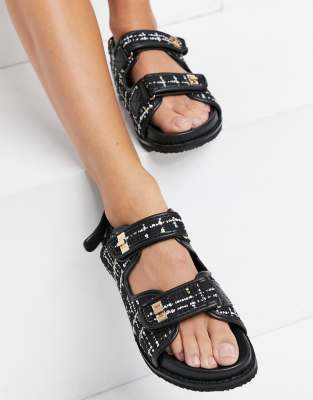 These trek sandals come with velcro style over the top. These are a big trend for spring summer this year. Brands like Chanel are also releasing very similar style due to their demand in the market. The black and white tweed on the top looks very expensive and so in the trends. You could wear pair of black jeans or a black skirt to make it a suitable fit with these sandals.
Onto Pink Heels
Onto heels ankle, details are a big trend this year for spring and summer. The shoes feature anklet details or some of the uses a strap around the ankle. The features come with flats and heels. These heels are great for spring with it's a lovely bright pink shade. You can put a normal anklet around your ankle and then wear your heels if you are not liking the inbuilt feature.
Missguided Gladiator Sandals
These greek style sandals are so in trend this year. It features chan details or studs and straps all over your foot. The colour is perfect for spring and fits everything. There are a variety of colours available but in my opinion, the shite strapped gladiator sandals are the fashion to look out for. You can have a skirt or boyfriend shirt to match with these sandals,
We advise choosing the correct styles of pairs according to the climate. You need to be very careful in choosing colours, pattern and style keeping the heat in the mind. The outside heat may burn your feet if it will be exposed to sunlight or it may get tanned. Please choose any style that allows full coverage to the foot must be soft from inside. Check the sole, material the thickness well of the sandals. You can keep the top of the feet open on less warm days or in rains. Special advice for strap tightening sandals. Please loose and tighten the straps accordingly to your comfort otherwise it will hurt you. We are done with special shoe trends for spring and summer. Please choose wisely. You can comment on your desired style for shoe trends in summer. We will be happy to give a look at it. shoe happy summers !!